MA student Dan Greenwood explores the visits of one of the world's most renowned abolitionists
Created in 2020, this mural – located on the side of the Cutlery Works on Neepsend Lane – depicts anti-slavery campaigner Mary Anne Rawson meeting abolitionist Frederick Douglass. Rawson's local roots and role in the Sheffield abolitionist movement provide an obvious reason for her inclusion in the mural. Douglass' relationship with the city, however, is more complex. Who was Douglass? Why did he visit Sheffield and what did he do here? And how was he received by local people upon his visits to the 'Steel City'?
Born into slavery, Frederick Douglass was raised on a Maryland plantation and escaped to Massachusetts in 1838. Douglass attended an anti-slavery convention in Nantucket in August, 1841, where he "felt strongly moved to speak" and was encouraged to do so by a gentleman who had previously heard the talented orator address an African American meeting. Douglass would not cease "pleading the cause of [his] brethren" and enlisted as a lecturer for prominent American social reformer William Lloyd Garrison's abolitionist society.1 Fearing that publicity in the United States would help those who had enslaved him to track him down, Douglass travelled to Britain in 1845 with the intention of touring the nation to expose the horrors of American slavery and raise as much support as possible. As he described in his autobiography, Douglass aimed to "do something toward throwing light on the American slave system" and "hastening" the liberation of his "brethren in bonds".2 As the 1833 Slave Emancipation Act had freed all those enslaved within the British Empire, Douglass considered Britain to be fertile territory in which to garner support in his campaign for the abolition of slavery in the United States.3
"I took right hold of the cause"

— Frederick Douglass, Narrative of the Life of Frederick Douglass, 1845.
For the duration of his first tour of Britain, Douglass was something of a celebrity. He was a great orator, and his charisma and eloquence only served to enhance his reputation this side of the Atlantic. Large crowds gathered in Sheffield churches, halls and private houses and listened intently as he "proceeded at considerable length to urge the claims of the negro population of America on the consideration and sympathy of Englishmen".4 Following Douglass' lectures in the city on the 10th and 11th September 1846, Garrison wrote to his wife that "hundreds were unable to gain admission" to one of the meetings, such was his popularity at this time.5
As he was preparing to leave Britain in the spring of 1847, Douglass returned to Sheffield for a farewell meeting in which he reiterated his message and local people thanked him for his insight and hard work. Even then, after nineteen months of touring the country, Douglass still enjoyed much fame and popularity among the British public. However, as a result of his relentless schedule and unwavering work ethic, a member of the audience present at his farewell meeting in Sheffield on 25th March noticed he was "too ill, from long continued exertion, to do full justice to himself".6 Nevertheless, Douglass left Sheffield in 1847 as a well-liked and admired figure among the local population. He returned to the US having helped forge anti-slavery networks in the UK and with a new platform for his message.7
But did popular support for slavery's abolition in the UK diminish over time? By contrast to his first tour, when he returned to the British Isles in 1859, Douglass' lectures received much less attention. Seemingly, by this time, Britons were less interested in supporting his campaign than they had been thirteen years earlier. Sheffield was certainly not immune to this decline. Local newspapers reported quite different levels of interest in and attendance to Douglass' talks in Sheffield (see, for example, the Sheffield Independent article pictured below). Douglass noted that in Sheffield, unlike some of the "other towns he had visited", no anti-slavery petitions had been "drawn up to be presented to the meeting".8
Douglass had several ways of accounting for this change. First, he pointed to the agitation of pro-slavery supporters. Douglass suggested that the British "were in danger of being corrupted…for the friends of the slave holder were circulating their publications continually in this country, especially in Sheffield".9 Douglass explained that he felt Britons' views towards the emancipation of enslaved people "was actually in danger of contamination by its intercourse" with proslavery supporters.10
Second, Douglass pointed to the economic benefits which gave local manufacturers a stake in slavery's future. Although Douglass' comment in his 19th December 1859 speech that "the influence of Sheffield went wherever its knives and crinoline went" was greeted with laughter, his point was a serious one.11 He attributed the apparent increase in apathy among Britons to "the intimacy caused by trade" with American slaveholders.12 Evidently, Sheffield had a very complex relationship with abolition as – in Douglass' eyes at least – economic ties with the American South had the potential to undermine local support for anti-slavery campaigns. Not only had support for his mission in the city appeared to have decreased dramatically, Douglass stressed that like other cities Sheffield's own industry actually played a role in facilitating and prolonging American slavery.
Frederick Douglass was untiring in his efforts to persuade all he encountered to do their utmost to expedite the abolition of slavery in the United States. His time in Sheffield demonstrates the variability and changeability in anti-slavery sentiment in Britain and the nature of the task he and his contemporaries faced. Rather than support for his mission steadily increasing, the citizens of Sheffield actually became more apathetic towards Douglass' cause over time. It was easier than ever for Britons to cast the actions of 'foreign' slaving societies as outside of their personal or national responsibilities, especially after the end of slavery in Britain's colonies in 1833.13 During his lecture here in January 1860, Douglass was even asked "why he had brought the question [of slavery] before the British people at all".13 In response, he stressed the significance of England's influence on "the slaveholder" in terms of trade, ideas, and "the power of civilisation".14 Douglass was also quick to remind his audience that while slavery existed on American (and South American) soils, Britons and Britain were still economically implicated in, and thus partly responsible for, the business of enslavement.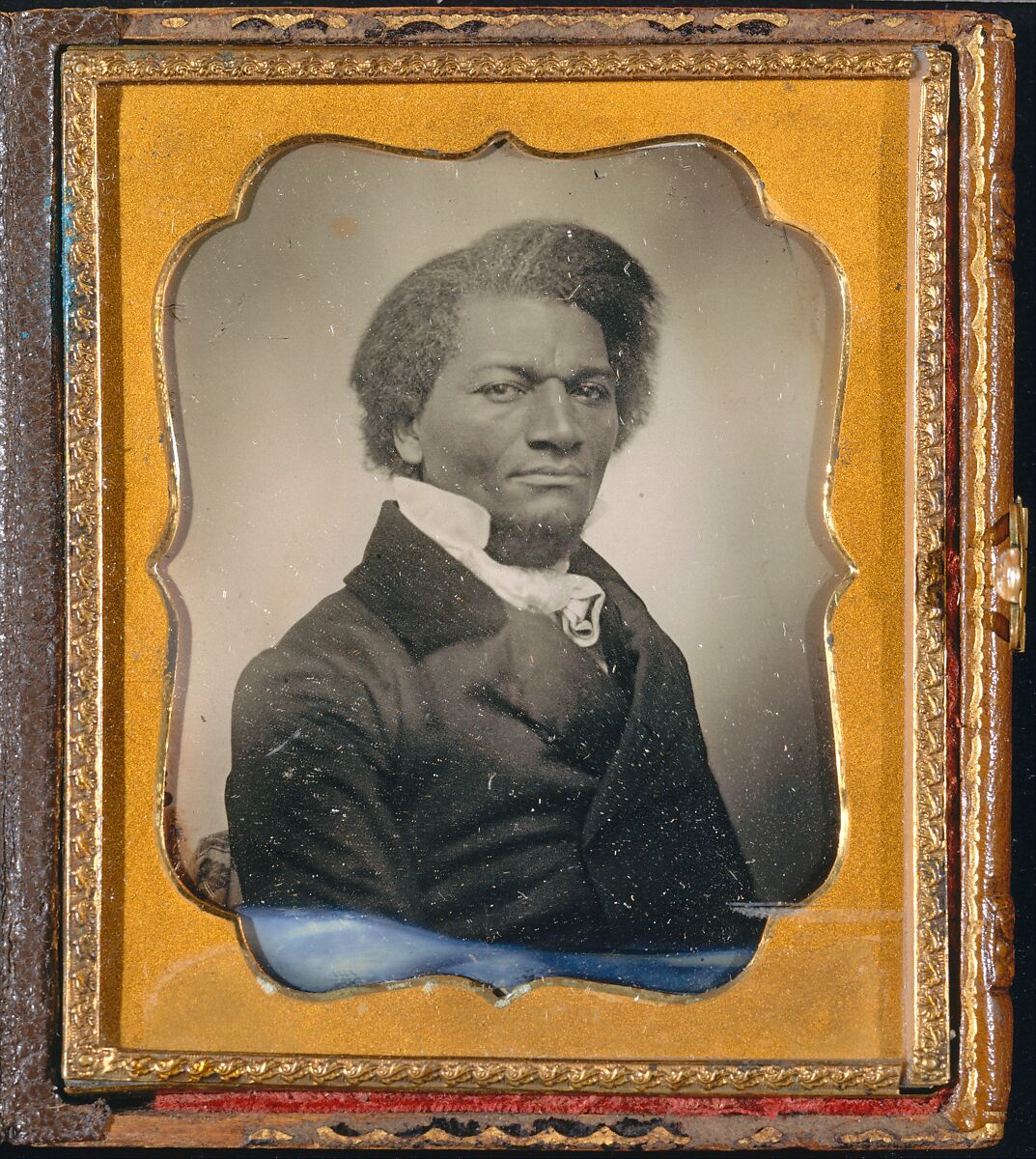 More…
Notes
1. Frederick Douglass, Narrative of the Life of Frederick Douglass, an American Slave. Written by Himself. (Boston, 1845), p.117. Accessed via Documenting the American South: https://docsouth.unc.edu/neh/douglass/douglass.html
2. Douglass, Narrative of the Life of Frederick Douglass, p.125.
3. Hannah-Rose Murray, 'A "Negro Hercules": Frederick Douglass' Celebrity in Britain', Celebrity Studies 7.2 (2016), p.266.
4. 'A Simple Tale of American Slavery: An Address Delivered in Sheffield, England, on September 11, 1846', Sheffield Mercury, September 12 1846. Accessed via Documenting the American South: https://docsouth.unc.edu/neh/douglass/support5.html
5. William Lloyd Garrison quoted in Murray, 'A "Negro Hercules''', p.270.
6. Hannah-Rose Murray, '"With Almost Electric Speed": Mapping African American Abolitionists in Britain and Ireland, 1838-1847', Slavery & Abolition 40.3 (2019), p.538.
7. As above.
8. Sheffield and Rotherham Independent, January 21 1860.
9. 'Lecture on American Slavery', Supplement to the Sheffield and Rotherham Independent, December 24 1859.
10. The Sheffield Daily Telegraph (December 20 1859), p. 3, quoted in Hannah-Rose Murray, Advocates of Freedom: African American Transatlantic Abolitionism in the British Isles (Cambridge, 2020), pp.191-2.
11. 'Lecture on American Slavery', Supplement to the Sheffield and Rotherham Independent, December 24 1859.
12. Supplement to the Sheffield and Rotherham Independent, January 21 1860.
13. See Richard Huzzey, 'The Moral Geography of British Anti-slavery Activities', Transactions of the Royal Historical Society, 6.22 (2012), pp.111-139.
14. Supplement to the Sheffield and Rotherham Independent, January 21 1860.